Our Liveaboards & Safaris for Komodo National Park
Requirements : Advanced certified diver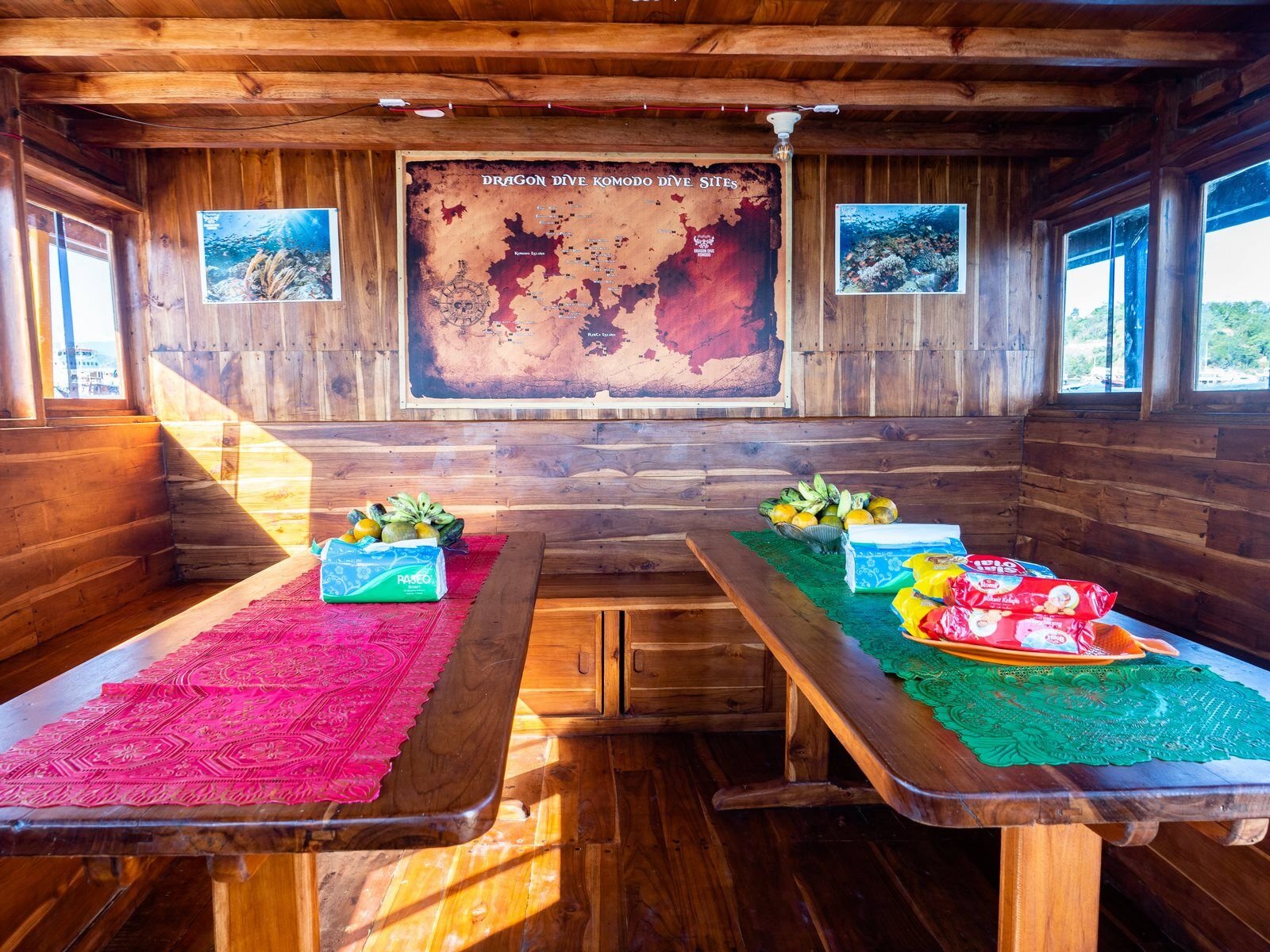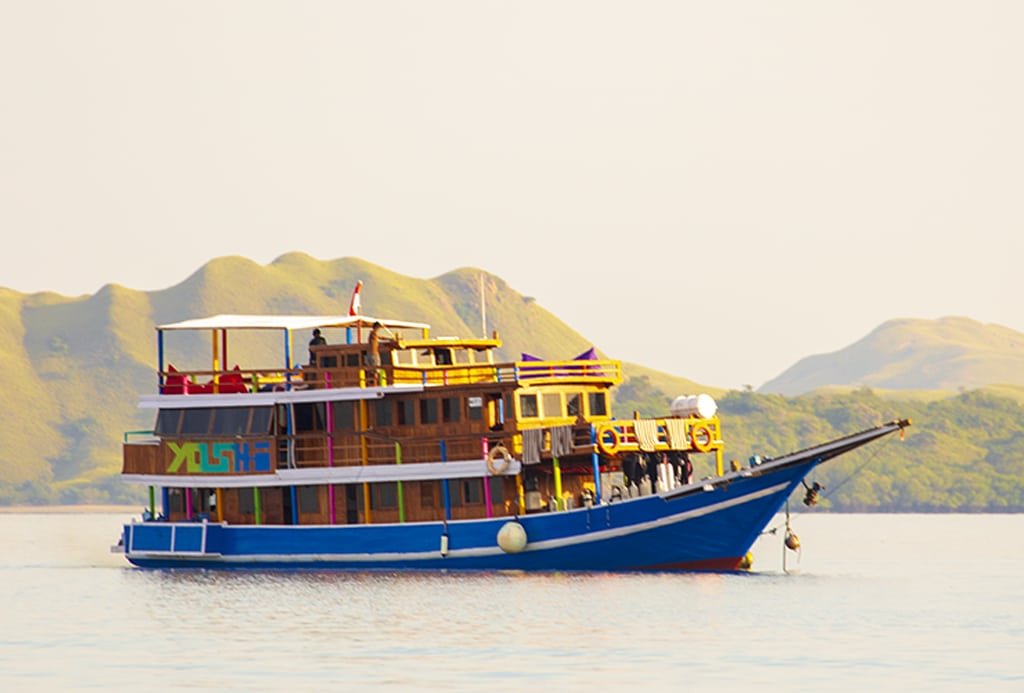 Our Dragon Dive Liveaboard "YOSHI" is a Phinisi boat: a traditional Indonesia wooden sailing ship built in 2017 and modified in february 2019
Our dive safaris take divers to explore one of the best dive spots in the world  – the UNESCO protected Komodo National Park.
You have the opportunity to sail through remote areas of Komodo National Park. This include visiting North, Central & South Komodo.
We offer liveaboard trips of 3, 4 or 5 days.
Our amazing chef will prepare culinary delights on board several times daily.
All our trips include hikes on Rinca island to track down and discover the legendary & Jurassic Komodo Dragons. Opportunities for swimming and discovering pristine and white sandy beaches are available. 
On the 4 & 5 day trips, hiking Padar & Gili Lawat are included.
Liveaboard customer Sarah said : "After shopping around and receiving quotes from different companies I decided to go with Dragon Dive Komodo. They are the only dive center offering dorm rooms for backpackers at a cheaper price than the alternative of sleeping on deck! I got my money's worth and the diving was obviously incredible"
The requirements to book onto our Liveaboard trip is a minimum of 20 dives & Advanced Open Water.
For those interested who are not Advanced Open Water certified, we require you to take the Deep & Night Adventure dives on board for an additional cost. These dives would count towards completing your Advanced Open Water course if desired in a near future.
Meeting @

 

Dragon Dive Komodo

 

the morning of departure  at 8.00 AM
Boarding around 9.00 AM
Return in Labuan Bajo (Dragon Dive Komodo ) late afternoon on last day.
A unique biodiversity in the world. For the Southern Whale cruises are visible.
You will meet the Komodo Dragons, the fascinating Padar Island and / or Gili Lawat for the sublime sunsets.
3 to 4 dives a day.
Night dive.
Guide and instructor on board.
Dragon Dive Komodo will immerse you in the most famous and beautiful Komodo sites: Shotgun, Golden Passage, Batu Bolong, Castle Rock, & Crystal Rock …
Komodo is an island well known to divers and remains one of the most beautiful destinations in the world.
Snorkelling

 is possible in Komodo national park on most dive sites

.
you will be able to do a trekking on Rinca,  Komodo,  Padar and on Gili Lawa Darat.
Pulau Kalong is home to the famous flying fox.

Pink beach

 

are famous around Komodo and we will try to bring you around some during our trips.
Price per person
Taxes included
Pay attention to the expiry time of your Visa
Cancellation insurance of your trip highly recommended
Children under 12 are not accepted
A medical form is mandatory before departure but a medical certificate is welcome.
Failure to comply with the instructions of the guides, or not being able to present the level certification cards and / or logbook and / or a medical certificate may result in the cancellation of your cruise.
The diver assumes full responsibility for his/her physical condition and accepts the risks associated with this activity.
Insurance is mandatory for cruises dive in Komodo. (book on arrival a daily DAN insurance)
We require to have a dive computer for cruising (rental possible)
Maximum depth: 30 m
You have the opportunity to start the deep dive and night diving that will count for the Advanced N2 PADI course for 100 € / person on the boat.
To do Dragon Dive Komodo dive cruises, you must be FFESSM, SSI, CMAS, BSAC, PADI or equivalent certified with your proof (email or map). It is the responsibility of the certified client to respect and follow the instructions of the guides while respecting the rules of your certification.
We reserve the right for security reasons, under the discretion of the staff member to refuse access to any or all dives if the diver does not have the physical and technical conditions for the said sites.
3 Days / 2 Nights 9 Dives, Central, North & Trekking KOMODO
Day 1:




2 dives Central + Night Dive

Day 2:

Trekking in Rinca + 2 dives Central & Night Dive

Day 3:

3 dives on North Side : Crystal Rock, Castle Rock & Cauldron

End of Dive 2PM
4 Days / 3 nights 12 Dives , Central, South & North , Rinca & Trekking PADAR
Day 1:




3 Dives & Night dive

Day 2:




Hiking in Rinca + 2 Dives

Day 3:




Hiking in Padar + 2 dives & Night dive

Day 4:


3 dives on North Side : Crystal Rock, Castle rock & Cauldron
End Of Dive 2PM
5 days / 4 nights to South Komodo & Padar
On this trip we will visit the dive sites in the south part of Komodo National Park, which are only accessible by liveaboard due to their remote location. We will dive at South Rinca, Nusa Kode, Padar and South Komodo Island.
Apart from diving some of the most amazing scuba diving spots in Komodo, this program includes a small hike on the famous Padar Island for a stunning view over the landscape . You will also spot from our speed boat the famous Komodo dragons in the wild .
The program below of this liveaboard is not fixed since this depends heavily on current and weather conditions. Palnning & Dive sites will be determined by the crew during the trip based on tides, current, sea- and weather conditions. The following program is an example how a south trip could be composed.
Day 1:


Departure from Labuan Bajo around 8/9.00 Am,

2 dives & 1 night dive

Day 2:




3 Dives in South Rinca

Day 3:




Cruise to South Komodo (following meteo), 1 or 2 dives on Manta Alley + 1 Night Dive

Day 4:




1 dive around South Komodo, 2 Dives in Padar (ex: Three Sisters, Pilaarsteen (Stone Pillar), Secret Garden), Trekking on Padar.

Day 5:




1 Dive in Padar Padar, 2 dives in Central Komodo (ex: Batu Bolong & Siaba Kecil) Return to Labuan Bajo around 5/6.00 PM.
Total of 15 dives with 2 night dive.
Meals, coffee and snacks between dives.
Dive guides
Excursions in Rinca
Transfer to/from the airport to Dragon Dive Komodo in Labuan Bajo is not included but can be arranged.

Basic equipment (bcd, reg, wetsuit, mask, fins, weights, tank) is not included.

Smb, lamps,  and computers can be rented if desired.

Aeroplane tickets

Visas, airport charges and extra luggage

Cancellation, diving incident, travel and repatriation insurance are not included (We can organise DAN insurance for the duration of your trip)

Soft drinks

Alcoholic drinks

Crew tips (keep aside 25 USD)

T-shirt

The reusable aluminium containers and mugs available must remain on board

Port, Komodo Marine Park: Rp 275,000 per person per day (& 375,000 per holiday), per departure.

Rinca rangers & hiking fees
3 double room for 2 pax with Private bathroom & AC.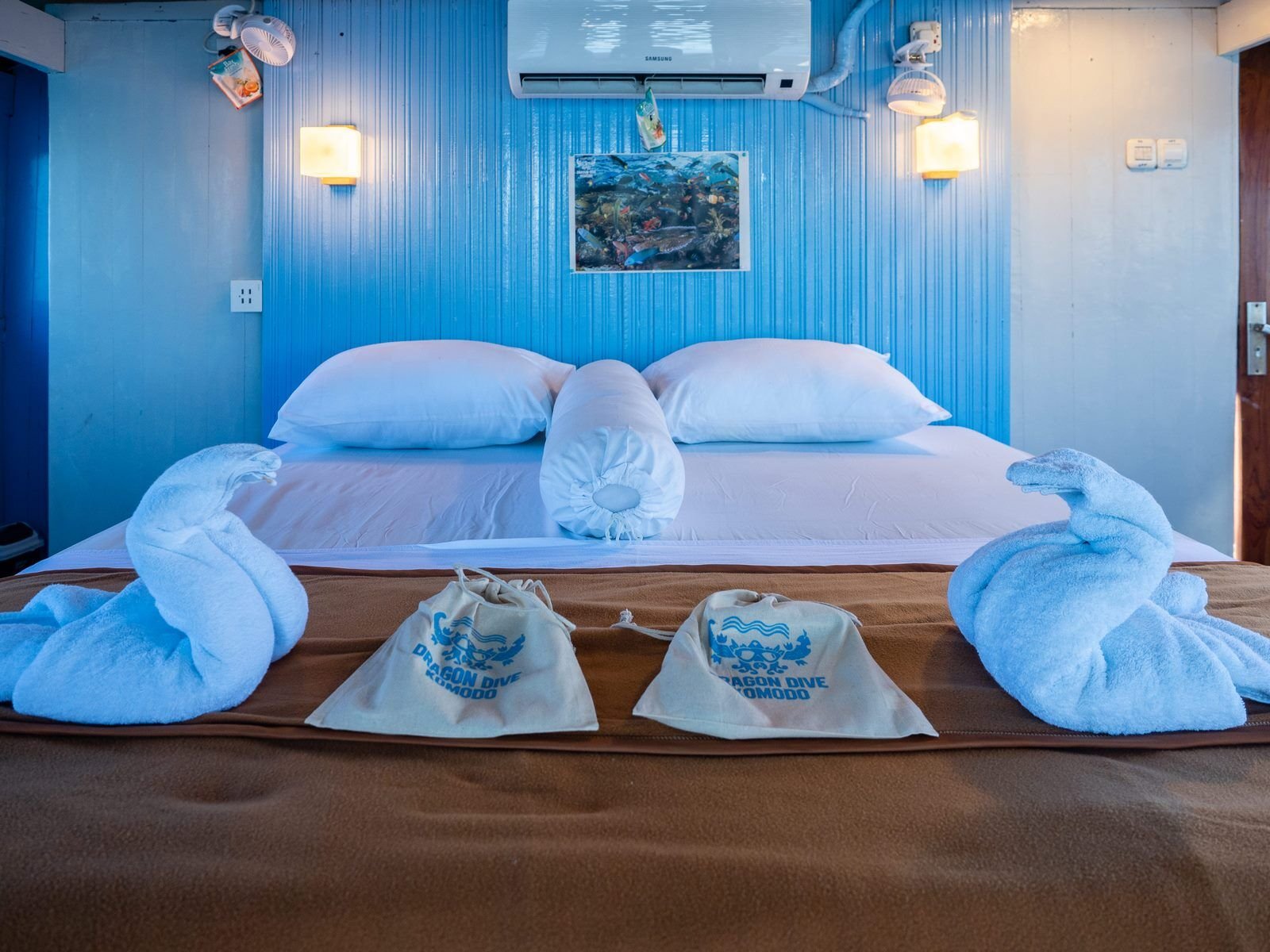 1 Suite room for 2 pax with Private bathroom, AC, private balcony.

Boat Specification
Length: 24 Meters
Width: 4,5 Meters
Materials: Ironwood Hool & Teak wood
Capacity: 120 Tons
Building Year: 2017
Speed Up to 12 Knots/Hour
Engines : 6 Cylinder Mitshubishi & 4 Cylinder backup
Electricity: 220 V
Backup Electricity Battery Solar Panel 12V
Fresh Water: 6.000 Liter
Navigation: GPS, Compass
Communication: VHF Radio
2 Speedboat
Renovation made in 2019

Boat Facilities
Suite Cabin with Balcony
1 Deluxe Double Cabin
2 Dorm Cabin for 4 pax each
All Rooms have airconditioning & en-suite bathroom
Open Dining room
Relaxing Top SunDeck
Air compressors BAUER Poseidon 200 & Coltri 270
New Closed Briefing Cabin & 2 extra outdoor Desk for Chill out
Contact us for your Liveaboard Trips
Please note the itinerary is intended as a Dive guide only. We can't promise to dive or visit any specifc area's as everything is following on weather and tidal conditions.
Howewer be assured we will offer you the best diving itinerary possible.
Safety First with DDK