Le nostre crociere e safari nel parco di Komodo.
La nostra nave da crociera Dragon Dive "Yoshi" è una barca Phinisi: un tradizionale veliero indonesiano in legno costruito nel 2017 e modificato a
febbraio 2019. I nostri safari subacquei portano i sub ad esplorare uno dei migliori punti di immersione al mondo: il Parco Nazionale di Komodo, 
protetto dall'UNESCO.
Hai la possibilità di navigare attraverso aree remote del Parco Nazionale di Komodo. Ciò include visitare Komodo nord, centrale e meridionale.
Offriamo viaggi liveaboard di 3, 4 o 5 giorni.
Il nostro straordinario chef preparerà prelibatezze culinarie a bordo più volte al giorno.

Tutti i nostri viaggi includono escursioni sull'isola di Rinca per rintracciare e scoprire il leggendario e giurassico Draghi di Komodo. Sono disponibili opportunità per nuotare e scoprire spiagge incontaminate e di sabbia bianca.
Nei viaggi di 4 e 5 giorni, sono incluse le escursioni Padar e Gili Lawat.
I requisiti per prenotare il nostro viaggio Liveaboard sono almeno 20 immersioni e Advanced Open Water.
Per quelli che non sono certificati Advanced Open Water, ti chiediamo di effettuare immersioni Deep and Night Adventure a un costo aggiuntivo. Queste immersioni conterebbero per completare il tuo corso Advanced Open Water se lo desideri in un prossimo futuro.
Appuntamento a Dragon Dive Komodo tra le 7.00 e le 8.00
Imbarco intorno alle 9.00
Rientro a Labuan Bajo (Dragon Dive Komodo) nel tardo pomeriggio dell'ultimo giorno.
Una macro fauna unica al mondo fino al pelagico (Manta, delfini e squali)
Per le crociere nel sud si puo vedere le balene.
Incontrerai i draghi di Komodo, l'affascinante isola di Padar e / o Gili Lawat per splendidi tramonti attraverso Pink Beach.
3-4 immersione al giorno.
immersione de notte.
Guida e istruttore a bordo.
Dragon Dive Komodo ti porterà in alcuni dei siti più famosi e più belli di Komodo: Shotgun, Golden Passage, Batu Bolong, Castle Rock e Crystal Rock …
Komodo è una delle destinazioni più belle del mondo.
Lo snorkeling è un'attività possibile in tutto il Parco di Komodo, dove il corallo è abbondante.
il parco di Komodo consentirà agli escursionisti di scoprire le isole di Rinca, Komodo, Padar e Gili Lawa Darat.
Pulau Kalong è un'isola situata vicino a Rinca dove dopo il tramonto vedrai le "famose" pipistrelli endemici che cercano i frutti di notte.
Pink Beach è una piccola spiaggia di sabbia "rosa" sull'isola di Komodo, dove e un bel posto per lo snorkeling.
Prezzo per persona
Tasse incluse
Presta attenzione al tempo di scadenza del tuo visto
Altamente consigliata l'assicurazione annullamento del viaggio
I bambini sotto i 10 anni non sono ammessi
Per fare crociere subacquee con Dragon Dive Komodo, devi essere certificato FFESSM, SSI, CMAS, BSAC, PADI o equivalente con la tua prova (e-mail o carta). È responsabilità del cliente certificato rispettare e seguire le istruzioni delle guide nel rispetto delle regole della certificazione.
Un modulo medico è obbligatorio prima della partenza, ma un certificato medico è il benvenuto.
Il mancato rispetto delle istruzioni delle guide o la mancata presentazione delle carte di certificazione di livello e / o di un certificato medico possono comportare l'annullamento della crociera.
Il sub si assume la piena responsabilità per le sue condizioni fisiche e accetta i rischi associati a questa attività.
Ci riserviamo il diritto per motivi di sicurezza, a discrezione del membro del personale di rifiutare l'accesso a qualsiasi o tutte le immersioni se il subacqueo non ha le condizioni fisiche e tecniche per i siti.
L'assicurazione è obbligatoria per le immersione in crociera a Komodo.
Abbiamo bisogno di un computer da immersione per la crociera (noleggio possibile)
Profondità massima: 30 m
Raccomandiamo a tutti i partecipanti di portare con sé tutte le attrezzature subacquee tra cui rashgard (esposizione al sole molto forte), maschera, boccaglio, erogatore, gav, computer da immersione, boa di sicurezza, luce e pinne.
È inclusa l'attrezzatura di base per l'immersione, ma dobbiamo conoscere tutte le dimensioni con almeno 60 giorni di anticipo.
Se non abbiamo più le tue taglie sarai costretto a affittare.
Attrezzatura extra al giorno:
• GAV- $ 10
• erogatore: $ 10
• muta: $ 5
• luce: $ 5
• Computer: $ 10
• boa di sicurezza – $ 0
• Maschera, pinne – $ 0
Pasti, caffè e snack tra le immersioni.
l'attrezzatura di base (GAV, erogatore, muta, maschera, pinne, pesi, bombola) .
guide subacquee
escursioni a Rinca
Il trasferimento da / per l'aeroporto al Dragon Dive Komodo a Labuan Bajo non è incluso ma può essere organizzato.
biglietti aerei
Visti, diritti aeroportuali e bagagli extra
l'assicurazione per annullamento, incidente subacqueo, viaggio e rimpatrio non è inclusa (possiamo organizzare l'assicurazione DAN per la durata del viaggio)
bevande analcoliche & bevande alcoliche
consigli per l'equipaggio (tenere da parte 25 USD)
camicia
i contenitori e le tazze di alluminio riutilizzabili disponibili devono rimanere a bordo.
porto Komodo Marine Park: 275.000 IDR per persona al giorno (e 350.000 IDR domenica e festivi), per partenza.
1 camera suite per 2 persone con bagno privato, aria condizionata, balcone privato
3 camere doppie per 2 persone con bagno privato e aria condizionata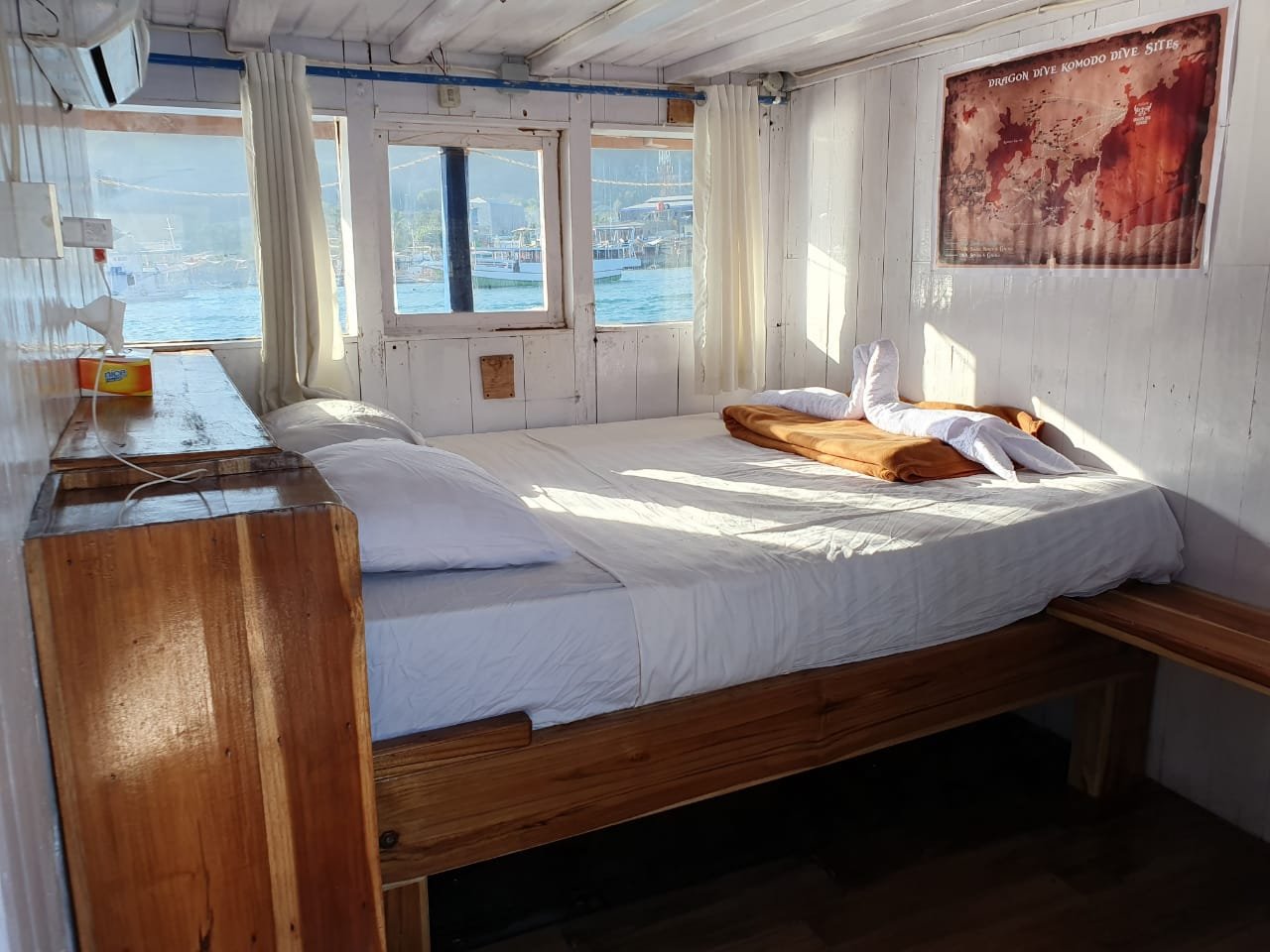 Giorno 1: 2 immersioni Central + un'immersione notturna.
Giorno 2 : il trekking a Rinca + 3 immersioni nel Centro
Giorno 3 : 3 immersioni sul lato nord: Crystal Rock, Castle Rock and Cauldron.

fine dell'immersione alle 14:00
4 giorni / 3 notti 12 immersioni, Centro e Nord, Rinca e Trekking Padar 
1 ° giorno: partenza mattutina per il centro di Komodo: 3 immersioni di un giorno + 1 notte
2 ° giorno: Rinca Treck + 2 immersioni e 1 immersione notturna
3 ° giorno: Trekking su PADAR + 2 immersioni
4 ° giorno: 3 immersioni (Crystal Castle e Cauldron) a nord
Fine dell'immersione alle 14.00
5 giorni / 4 notti 15 immersioni South Komodo, Center & Padar
In questo eccezionale soggiorno scoprirai i sublimi fondi del Komodo Park. Solo le navi da crociera possono accedere ai siti di Nusa Kode e South Rinca.
Questo programma include anche uscite di trekking a Padar e l'incontro di draghi sulle spiagge di Komodo / Rinca.
Il programma non è fisso e verrà seguito scrupolosamente in base alle correnti e alle condizioni meteorologiche che determineranno i siti di immersione.
Il seguente programma è un esempio.
1 ° giorno: partenza da Labuan Bajo tra le 8.00 e le 9.00, 2 immersioni e 1 notte nel sud di Rinca (Nusa Kode) (ex: Cannibal Rock, muro giallo, Torpedo Point) Incontro con i draghi sulla spiaggia.
2 ° giorno: 3 immersioni nel sud di Rinca
3 ° giorno: crociera verso sud dell'isola di Komodo (a seconda delle condizioni meteorologiche), 1 o 2 immersioni su Manta Alley + 1 notte di immersione
4 ° giorno: 1 immersione a sud di Komodo, 2 immersioni a Padar (ad esempio Three Sisters, Pilaarsteen (Stone Pillar), Secret Garden), Trekking on Padar.
5 ° giorno: 1 immersione a Padar, 2 immersioni nel centro di Komodo (es: Batu Bolong e Siaba Kecil) Rientro a Labuan Bajo intorno alle 17-18.00.
Totale di 15 immersioni tra cui 2 immersioni notturne.