Scuba gear: Is it worth buying your diving equipment?
Underwater breathing is our superpower as scuba divers. To do so, we need scuba diving gear. We believe Scuba diving equipment is necessary for scuba diving safely and comfortably. Nevertheless, we are all superheroes whenever we wear our Wetsuits and BCD. Due to the high cost of scuba gear, scuba diving is perceived as an expensive sport.
If you fall in love with scuba diving or a scuba diver and plan on diving more than twice a year, investing in your equipment should quickly become a priority.
At Dragon Dive we are convinced that comfortable gear equals safety. Habit and knowledge of using your equipment play a big part here. 
To invest wisely, there are several steps you can take. This Blogspot is meant to give you some advice from professionals about buying your equipment without breaking the bank. It is possible to save a lot of money if you become addicted to scuba diving. And more money means more diving!
What do I need to scuba dive?
Embark on your scuba diving journey with the ABCs of gear: mask, regulator, BCD, and fins. It can be enough in tropical islands with a temperature above 28°C. The diving industry offers a range of diving equipment beyond these basics: exposure suits (wetsuits/drysuits), safety and comfort accessories, and waterproof bags. Before buying scuba diving gear, decide what essentials you need first, then buy accessories.
The six scuba gear essentials
Below you will find the essential equipment you should start with. Your preferences and needs will become clear as you dive, and then you can purchase your regulator, dive computer, and BCD.
1 – Diving mask
Masks allow scuba divers, freedivers and snorkellers to see underwater. 
After nearly 20 years of experience, masks are, most of the time, the most problematic equipment to find. Our faces are all different, and we must try them before buying. Our advice is whenever you find one who is good for you, stick to this model and brand. The trend now is Low Volume masks to help divers to release the water faster. The main inconvenience is the pain given on the top of the eyebrow. If you got pain then forget the "low" or "S" volume meaning all freediving masks. 
The Modo from some instructors, "the less amount of water coming inside, the better," is pure fantasy. Getting water in your masks is part of scuba diving. 
For the Valsalva technique to work properly, it is important to be able to access your nose easily.
The Anti-Fog technology mask, for example, features a film covering the inside of the lens that prevents fogging.
2 – Diving suit
A large part of us new divers did a try dive while on tropical holidays. Scuba diving below 28°C will usually need a full wetsuit, since we lose our body temperature 25 times faster in water than in the air. 
Switching (in Komodo) from a 3 mm to a 5 mm wetsuit is a massive change for beginner divers. 
Depending on where you plan to scuba dive, you may need different types and thicknesses of exposure suits, ranging from 3mm wetsuits to dry suits.
We advise you to take a 5 mm maximum and an extra 5/3mm with a hoody in case you need more. Forget 7, 9 or 12 mm, except if you are diving only in cold water.
Why our instructors are using 10 – 12 mm in Komodo… The answer is easy: the more frequently you scuba dive, the colder you get.
3 mm Wetsuit> 27°C
5 mm wetsuit 23-26°C
7mm wetsuit 17-22°C
7mm semi-drysuit 14-16°C
Drysuit < 14°C
3 – Fins
Fins are what allow us to move underwater. A full-foot fin and an adjustable fin can be found in different shapes and rigidities. 
For travelling, full-foot fins are usually cheaper and lighter. To avoid cuts and scratches, you will need a pair of neoprene socks. 
While shore diving, the booties keep your feet warm in colder water and protect them from uneven terrain. Despite being polyvalent, it is bulkier and heavier to transport.
Fortunately, you can now find models that can be worn with or without booties. At Dragon Dive we offer the Mares Avanti Pure fin, a very small and robust fin.
4 – Dive computer
You don't have to worry about anything with the dive computer. Due to all the smartwatches available today, prices have dropped dramatically. Nitrox options and colour screens are available in entry-level models like the Aqualung i330R. 
Divers are now required to wear dive computers at more dive centres in recent years. 
Its primary purpose is to determine how long you have left at a certain depth before entering emergency decompression mode, with a longer or shorter safety stop (recreational diving focuses on not exceeding decompression limits).
5 – BCD (Buoyancy Control Device)
You're now a serious diver if you are ready to invest in a BCD. Unfortunately, we can't say this equipment's prices have decreased significantly. However, their comfort and features have continuously improved. We can now find lighter, more compact, and versatile models for travelling.
In recreational diving, there are mainly two types of BCDs: jackets and back-inflations. Generally, people learn to scuba dive with jackets type during their Open Water course or the type you will rent while renting equipment. On personal Bcds, we advise you to focus on Back-inflation BCDs. The aim is to help divers achieve a better underwater trim (the ideal hydrodynamic horizontal position in the water).
6 – Regulator
Once you have acquired your first regulator and air gauge (along with a spare octopus regulator), you will be an experienced scuba diver.
Choosing a regulator can be challenging due to its technical nature. Choose a model that meets your needs in terms of water temperature range, DIN or Yoke connection, and breathing effort.
The good news is that lighter travel regulators are usually more affordable. It is important to note that these models cannot usually be used below 14°C. 
There are two different types of connections, DIN and Yoke, depending on the region. Germany's DIN code for standards is widely used in Europe. 
We suggest you take a Yoke Regulator with the technology of a balanced first stage. Din adaptors are a heavy piece and uncomfortable as your head bumps into the reg.
 When diving in America, Mexico, South East Asia, or Japan, you'll need a DIN adapter if you use a DIN regulator.
Our Dragon Dive Team choice remains on the Aqualung Legend , Mk25 Scubapro and Apeks regulators.
Scuba gear accessories
The following is a quick overview of the scuba diving accessories you can purchase to complete your scuba diving kit.
For cold water diving, a hood makes a big difference in thermal comfort.
When diving in colder waters or on shore, booties are a must.
When you're too far from the boat, like after a drift dive, a Surface Marker Buoy allows you to ascend safely at the surface.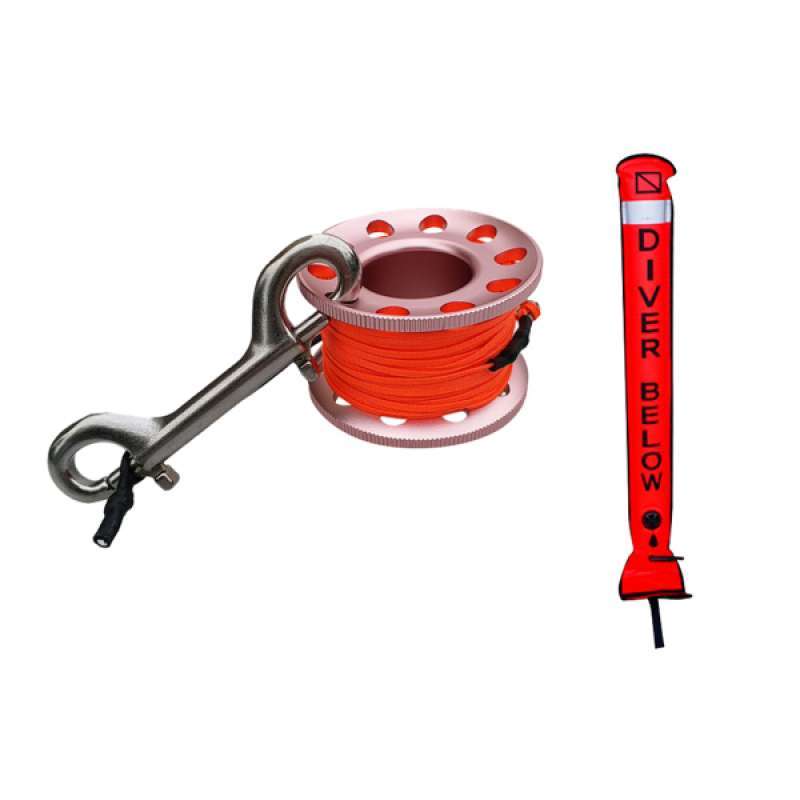 Low visibility calls for the use of a compass. It is a piece of mandatory equipment for Divemaster trainees.
With these tiny accessories, you will streamline your BCD with all your scuba gear. They also make you a more responsible diver who does not drag their gauge and octopus on the seabed.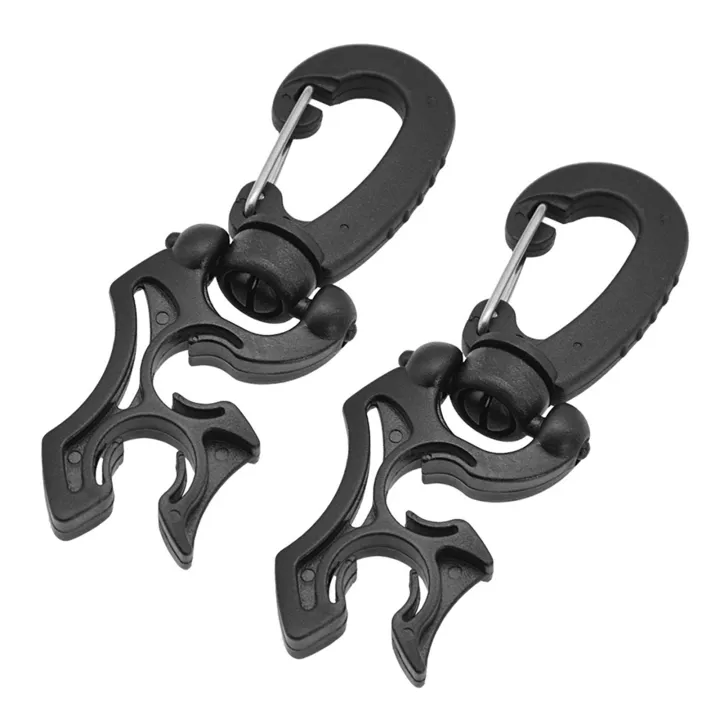 Dive light: While a diving torchlight is essential for night diving, it is also helpful during daytime in darker waters or when diving deeper on a shipwreck. We advise targeting a 2000 Lumens to 5000 lumens torch. 
Check our blog about the best lamp to buy.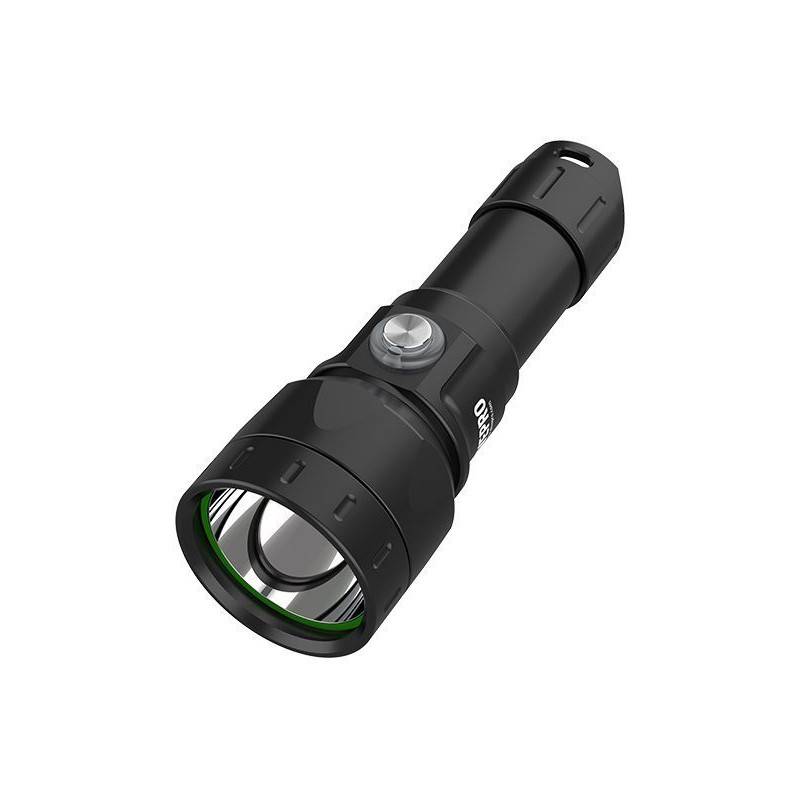 When diving in an area where people go fishing, you may need to carry a dive knife to prevent getting entangled. There's nothing wrong with diving knives, but line cutters are usually more effective.


Scuba gear bags
Generally, you can choose between two types of diving bags. In the end, you can use any backpack or suitcase, but let's see how these specialized bags can help you:
Small waterproof bags are perfect for protecting sensitive items on a boat (phones, wallets, etc.). Large ones are perfect for storing your scuba gear after a dive and driving home.
On a liveaboard cruise or in a dive centre, mesh bags are perfect for several days of diving. This will make it easier for you to keep your diving gear organized. 
For long-distance travel, a roller duffle bag is ideal. It is essential to look for wheels that are of good quality and zippers that are salt-resistant. Look for these in Decathlon or Stahlsac stores.
How to choose the right gear?
We believe in investing in a product that you like. The only important thing is to buy a reliable product. On fins, focus on the best one to avoid problems, such as Rk3, Advanti Quattro or Technisub.
For the regulator, the Mikron is the best reg for travelling.
For the Bcd, doughnuts are the lightest and the best we advise
Computer: if you are sporty, then the Garmin Mk2 is the one for you, If you want the top of the top, then focus on the Shearwater. Just a basic one for travelling the Mares Puck Pro or I110 de Aqualung.
How much does scuba gear cost?
A complete set of scuba diving equipment costs
We calculated for a recreational diver in tropical waters. The price for a complete starter set would cost around 1000 €.
Mask: 25 – 155 €
Full foot fins: 30 – 115 €
5 mm wetsuit: 199 – 550 €
Regulator set: 400 – 1700 €
BCD: 300 – 600 €
Dive computer: 99 – 750 €
SMB: 30 – 90 €
Which scuba gear brand should you choose?
The answer is more complex as all brands are specialized in gear.
When buying a brand, you should consider whether it can be serviced in your area of residence. Regulators, in particular, must be serviced annually (some every two years). Find out which brands your local dive shop services.